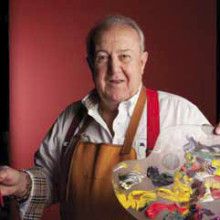 The famous Russian writer and historian N.M. Karamzin once said: "Russia is strengthened by its province," implying that numerous great statesmen, prominent figures of art and science were born in provincial Russian cities and their surroundings, and remote villages.
Traditionally, the cultural pool in such international cultural centers as Moscow, Paris, St.
Petersburg, Rome and New York were fed by a stream of talented and active young people who stormed the seemingly impermeable walls of the Big City with inexhaustible energy and avid enthusiasm. Though, as the history shows, there are exceptions to every rule.
Having grown up in an artistic environment in Moscow, Alexander Evgenievich Tikhomirov later graduated from the famous Moscow State Stroganov Academy of Industrial and Applied Arts, commonly known as "Stroganovka". He was fostered by such eminent artists as I. Obrosov, G. Korzhev and O. Filatchev.
Today the artist's name is widely known in Russia.
Alexander Tikhomirov was surrounded by an aura of creation in his family as well. His father, Evgeny Tikhomirov, inculcated a love for the arts to his son. From the very outset, Alexander's natural talent and his home and university environment provided the conditions and prerequisites that would set up the life choice of a future artist.
Despite common tendency, 30 years ago, Alexander Tikhomirov left Moscow and settled down on the banks of the Amur River in the city of Blagoveshchensk. It is in Blagoveshchensk that Alexander created and developed a new artistic style dubbed "Okonopis", which is widely known today both in Russia and abroad.
Emotionality, an astute eye and a high professional air allow us to name the work of this eminent, renowned artist, the People's Artist of the Russian Federation, Corresponding Member of the Russian Academy of Arts, Chevalier of the Order of "Friendship": Alexander Evgenievich Tikhomirov, genuinely an extraordinary phenomenon on the landscape of contemporary art of Russia.
President of the Russian Academy of Arts, Z.K. Tsereteli
Original: Сatalogue "Okonopis". 2014