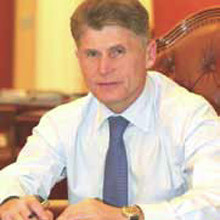 The Amur land is famed for its prominent talented people, whose creative works got acclaimed far beyond the borders of the region. These people are the pride and most treasured possession of Priamurie, as they contribute to the image of the region.
Alexander Tikhomirov has long become a distinctive name, a trademark of the Amur region thanks to his "okonopis" or window-painting works. The ingenious artist, the talented author of unique icons depicting holy faces of Orthodox saints on the panes of window-shutters, is well-known in Russia and abroad. His works can be seen in museums, galleries and private collections all over the world. Windowpainted icons by Tikhomirov are masterpieces that leave a long and lasting impression in people's souls, enlighten them and encourage to look at the spiritual essence of Russia and Orthodoxy from a new angle.
Through the prism of his original works, which capture one's imagination, the artist strives to make this world a better place to live in, to bring holiness into it, to spark a person's belief in good, spiritual, sanctified. When you look at the artist's wooden paintings, they cannot but evoke strong feelings of connection with your ancestral kin and love of the Motherland.
Undoubtedly, owing to outstanding talent of Alexander Tikhomirov, the cultural heritage of Priamurie has been enriched by precious artworks which can be compared only to a few pieces of world art. People of the Amur region have every reason to be proud of their prominent, but notably modest and intellectual fellow landsman. Fully sympathizing with their feelings, I would like to wish Alexander Evgenievich new creative discoveries, further development of his artistic gift, which shall never seize to amaze the coming generations of true judges of art.
The Governor of the Amur region О. N. Kozhemyako
Original: Сatalogue "Okonopis". 2014