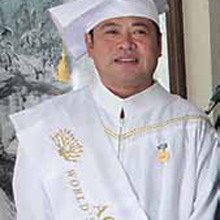 I've collaborated with my Russian brother Alexander Tikhomirov for about 20 years now. Over the years, we've organized dozens of exhibitions both in Russia and in China. At the time we started working together, very few people knew us or believed in our future success. Today, the Museum of Russian Art in Harbin, where Alexander Tikhomirov serves as an Honorable Director, is considered the best private museum in China. The museum is visited by millions of residents and visitors to China. The museum's collection of art includes pieces by Alexander Tikhomirov, People's Artist of Russia and an honorary member of the Union of Artists of China, that number over one hundred. His artworks always evoke special attention and interest among visitors. «Okonopis» is known and loved in China, which is evidenced by the fact that in 2005, Alexander Tikhomirov was awarded the Top Prize at the 12th International Fair of Contemporary Art in Beijing.
I am pleased to participate in this project featuring the exhibition of my Russian brother and the next edition of the catalogue. Sasha, my best wishes to you and may your works enjoy eternal admiration!
Your Chinese brother, Director of the Museum of Russian Art in Harbin, holder of the Medals "to worthy" by the Russian Academy of Arts and the Cavalier of the sign "For contribution to international cooperation" by the Russian Foreign Ministry, Liu Mingxu.
Liu Mingxu, director of the Russian Art Museum in Harbin
Original: Сatalogue "Okonopis". 2014