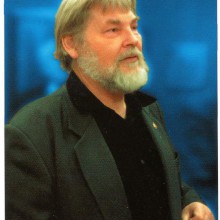 Alexander E. Tikhomirov's art was composed before my very eyes. Straight away I was attracted by Tikhomirov's possession and spirituality in his attitude to the work, and by the fact that all his works are full of high spiritual sense, his contemporaries fall short of. It does inhere to him to understand high designation and sense of Orthodoxy and religion in Russia. It's shown in his unique works of Okonography.
Tikhomirov's art is not only Okonography; it's a high understanding of sense and essence of Russian icon, disclosing the idea and profundity of Orthodoxy. Okonography for Tikhomirov is the way of self-expression, creation of his own credo and life in harmony with Christianity and Orthodoxy. He managed to get spirituality and create his works for the sake of faith, kindness and justice under the Holy Writ.
The works of great monks such as Rublev, Dionysius and Theophanous the Greek were full of high sense and spirituality owing to their purity of thoughts and religious disposition. True faith is at the heart of Tikhomirov's art. Tikhomirov creates his works on the wood – kind, warm, caressing and penetrated with time material. This material, embodied in windows and finish casings has given the new conviction and significance to the ideas of Orthodoxy, determined them as a moral value, modern people need so much because of the lack of pure spring of faith Orthodoxy. It's very Orthodoxy, which gives hope to great revival of spirituality of our nation. Tikhomirov's Okonography urges people to the strengthening of faith.
May your path of the artist- enlightener be thorny, difficult and glorious.
Obrosov I.,
member of Russian Academy of Art,
member of Academy of literature,
State prize winner of the USSR and Russia,
People's artist of Rassia
Original: The album works. 2005