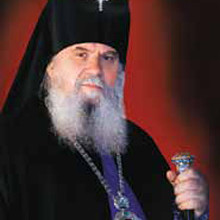 The spiritual revival of our Nation is impossible without good deeds and productive work in economics, science and culture. Orthodox faith, which is the foundation of Russian traditions, is to inspire our fellow citizens to make good accomplishments in every aspect of life.
Alexander Tikhomirov has founded a new trend of religious painting — "Okonopis" (window iconpainting) on Amur lands. This is the evidence that people show growing interest to the Orthodox background. Alexander Tikhomirov's work propelled the arousal of people's creativity, the consolidation of great originative forces. It is a pleasure to notice that religious artworks of "Okonopis" are perceived by people both of the Amur region and of other regions and even abroad as a Divine gift and thanksgiving sent down to humanity to use mundane wealth for affirmation of love to God and people.
In the works of "Okonopis" we see that the image of the window icon-painter — a man, a hard-worker and a Christian, who works to build a monument to the glory and exploit of Holy Russia, — has been created with a special care and love.
Archibishop of Blagoveschensk and Tynda
Original: Сatalogue "Okonopis". 2014