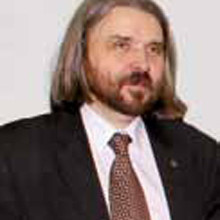 Alexander Tikhomirov is a person of an exceptional talent. He is a graduate of one of the oldest Russian art schools – IN DUSTRIUL ART UNI VERSI TY (MSI AU) n. a. S.G. Stroganov.
Active life position gives him energy to live a creative life of full value, to invest much time in social activities. Over the past few years, his personal exhibitions were held in the best museums of Moscow and other regions of the Russian Federation.
Alexander's talent was fully revealed through the series of works titled «Okonopis», that gained wide acknowledgement not only among the professional artists, but also among the ordinary art lovers. There was published a number of outstanding art albums about his artistic work. Alexander Tikhomirov is still full of energy and vitality. I hope he will continue to please us with his talent and new fruits of his hard work.
Sincerely, People's Artist of the Russian Federation, Full member of theRussian Academy of Arts,
Adviser to the President of the Russian Academy of Arts, First VicePresident of the Russian Creative Artists' Union,
E.V . Romashko
Original: Сatalogue "Okonopis". 2014